Juliana MacDowell is an Americana singer-songwriter, who lives between the hills and hollers of Loudoun County, VA and the relaxing and riotous rock that is Key West, FL.  Her velvety vocals and moving originals unite her with listeners in unforced and memorable ways. Juliana fell in love with music as a toddler when her grandfather placed her on the bench of his Steinway.  Whether performing with her band, Jules & The Agreeables, or duo partner, illustrious D.C. area guitarist, Mike Ault (Paul Reed Smith Band) - Juliana draws listeners in with her "heart-on-your-sleeve" approach to songwriting and performance. 
Juliana MacDowell's soulful Americana counters some of the lightness and darkness in life through effortlessly poetic lyrics guiding the stories she needs to tell.- Tine Benitez-Eves, American Songwriter  
Juliana recorded her latest album with Nashville producer, Bil VornDick.  Big Old Yellow Moon is set to release Summer 2022 and remains an impressively diverse collection of mini-masterpieces ranging from beguiling ballads to kick-up-your-spurs pop-country. The album's title track offers a palatable pairing of 1940s-style lilting melodies with an island-inspired motif.  Conch Town Records signed Juliana's second album: Leaving Home (British Indie producer, Ian Shaw). The album released Friday the 13th, March 2020 - days before Covid-19 pandemic pandemonium locked down the U.S.. Unfortunate timing perhaps but the album shines and features a cast of prodigious players from across the globe. Award-winning songs like "All Those Things" and "Two Kinds Of People" gained Juliana traction beyond the east coast where she got her start. Juliana's first album, "Take Me Away," (2015) features rock single, "Gotta Roll." 
"Leaving Home" makes (Juliana's) talent hard to miss, however. MacDowell's second album, and the first for the new indie label Conch Town Music, is as sunny as the Keys and a melodious showcase for her fine singing and songwriting. MacDowell's brand of pop draws from folk, rock and country. While much of it is bouncy and upbeat, there's a bluesy hue to her expressive alto that's especially appealing, as is the contrast between her upper and lower register. "Leaving Home" grabs the ear and invites a smile right out of the gate with the opener "I Like," which — as elsewhere — benefits from Matt Backer's inventive guitar work. Horns propel the title cut, a voyage of discovery that leads MacDowell to a happy ending. And the piano-and-strings ballad "Midnight Hour" offers a reminder that life isn't all beautiful sunsets, even in Key West. On the fiddle waltz "Two Kinds of People," MacDowell sings, "I deserve to be heard." She's absolutely right. - Steve Wine, AP - ABC News
0:00/3:51

0:00/4:20

0:00/3:01

0:00/4:35

0:00/3:42

0:00/5:14

0:00/4:18

0:00/4:22

0:00/3:45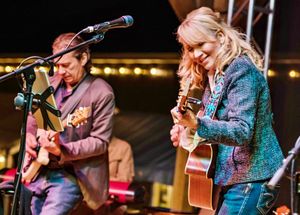 "Marry You" is a tale of the high and lows of marriage, syncopating melodies from light and breezy to more poignant, reflecting some of the real moments of love. (American Songwriter Magazine)
Juliana's Take Me Away  (2015) runs from spunky toe-tapper to heartfelt ballad.  Produced by multi-WAMA award-winner, Marco Delmar, Take Me Away  features legendary bass player, Freebo; British guitarist, Matt Backer; String Cheese Incident drummer, Jason Hann; mandolin player, Matt Cartsonis and D.C. area artists. https://itunes.apple.com/us/album/take-me-away/id1024233501  
"Having heard Juliana perform several times, I looked forward to hearing this CD. It confirms my initial impression that she is a fantastic singer and skillful songwriter. She reminds me a lot of the late Eva Cassidy in that, like Eva, she seems incapable of singing an ill advised note or taking a song in the wrong direction. Unlike too many performers for whom it's all about them, Juliana respects the song and her role of communicator. And she has a great instrument with which to communicate. She can belt it out or be soft and intimate, pitch perfect with a depth of resonance regardless of dynamic. There is a finish when she releases a note; it stays with you... She is surrounded by a great cast of musicians with ample opportunity to blow and to be creative in their support.  Juliana is an artist worthy of greater recognition. This CD should be in your collection!"  - sj